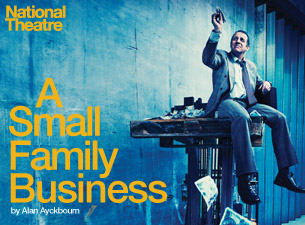 Kids Week is all about introducing children to the magic of London theatre during the month of august 
Alan Ayckbourn's A Small Family Business, a riotous exposure of entrepreneurial greed, returns to the National where it premiered in 1987.
What if all your in-laws are outlaws?
Jack McCracken: a man of principle in a corrupt world. But not for long. Moments after taking over his father-in-law's business he's approached by a private detective armed with some compromising information. Jack's integrity fades away as he discovers his extended family to be thieves and adulterers, looting the business from their suburban homes. Rampant self-interest takes over and comic hysteria builds to a macabre climax.
Well, that's one down, isn't it. Nine to go. Next! Thou shalt not kill. What about that then? Let's have a crack at that one next, shall we?
A child aged 16 or under can go free to these performances when accompanied by an adult paying full price
This offer is subject to availability, cannot be used in conjunction with any other discounts and does not apply to tickets previously purchased.